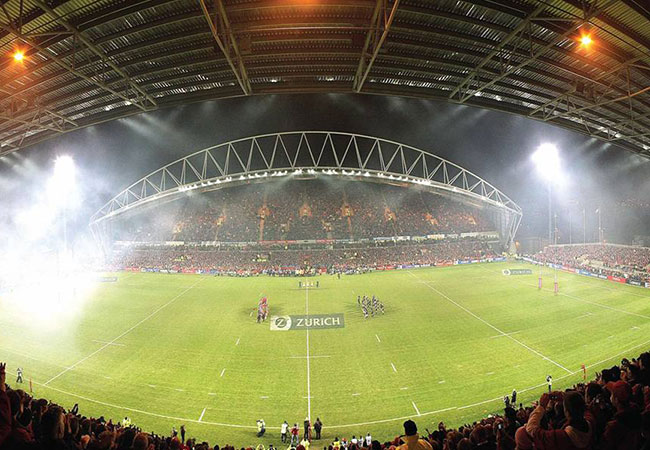 Location: Cratloe Road, Limerick, Ireland
Capacity: 25,600 seater stadium – Famous home of Munster Rugby
Other: A world class purpose built Rugby venue. Renowned internationally for its unique history and atmosphere.
Website: www.thomondpark.ie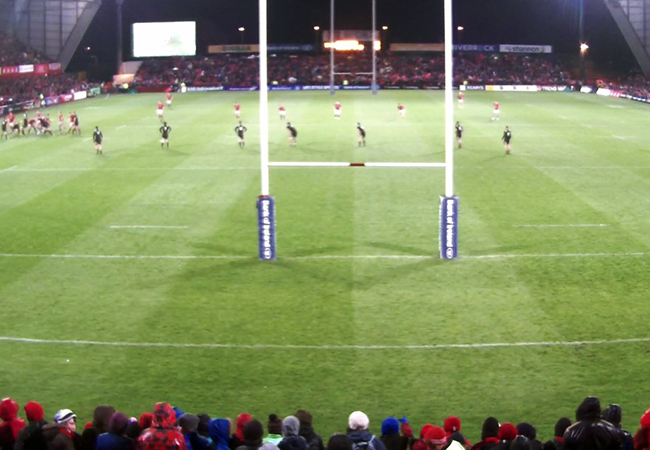 On-Screen and Digital Advertising
Quantity: 86 x screens located all around the ground with 25 on Premium and Box Level plus 1 x Giant Video Screens – all with audio!
Location: In full view of the attending audience with full audio coverage.
Coverage: Run your brand advert here just before Kick Off / Half Time / Post Match with full audio to deliver your brand message in BIG TV STYLE.
Result: All in the ground will be aware of your brand message.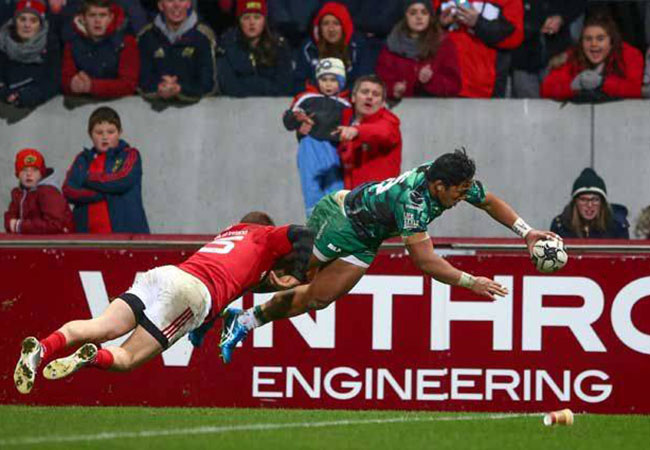 Quantity: Availability varies from season to season.
Location: Full range at Pitchside and also on first Tier of East & West Stands.
Coverage: Full in stadium coverage and great TV audience coverage.
Result: Puts your brand right in the heart of the action.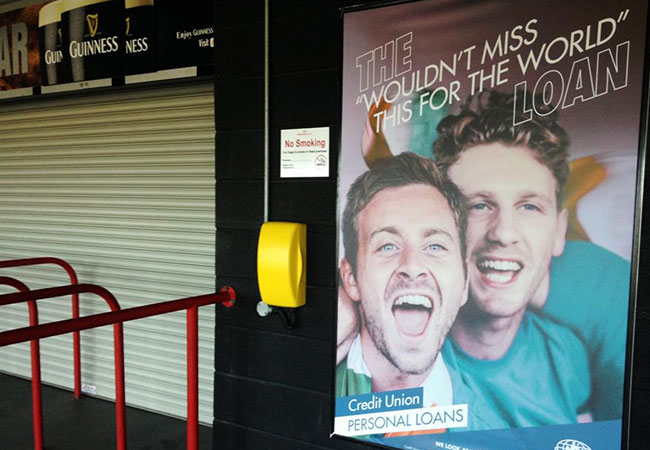 Quantity: 32 x 6 Sheet sites at key locations in the stadium – sold in packages of 16 per brand.
Location: At entrances to stands and next to food and bar facilities.
Coverage: Each package will deliver the full attending audience.
Result: A great opportunity to get your brand message across to the full audience.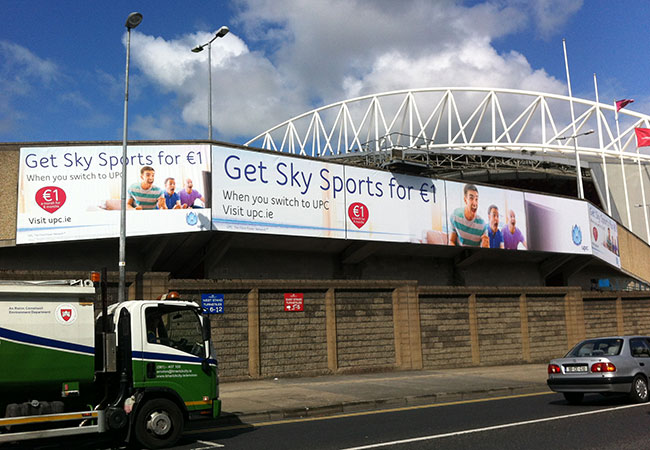 48 Sheet (Billboard) Advertising
Quantity: We have 2 x 48 Sheet fully illuminated sites available on the exterior of this famous ground.
Location: Right on the road-facing exterior of the South Terrace end, the only commercial advertising on the exterior of this famous ground.
Coverage: Each delivers full 24/7/365 visibility for your brand and the kudos of brand association with Thomond Park – officially the most famous club ground in the world.
Result: A truly great opportunity for brand positioning and also brand messaging.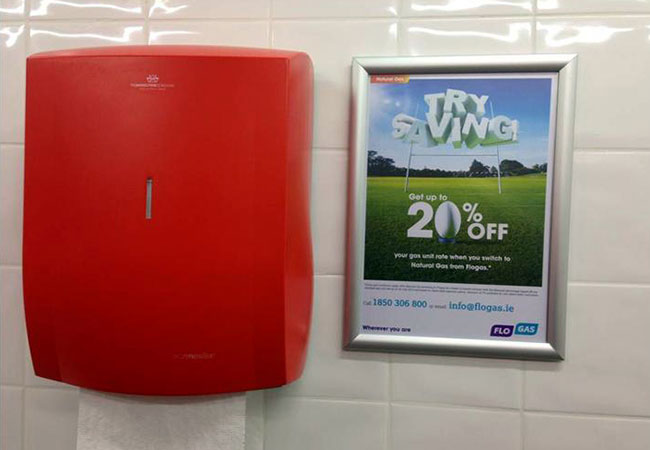 Quantity: 600 x A3 Advertising Sites.
Location: Located in all washrooms throughout the stadium.
Coverage: These sites will deliver the full attending audience in a very captive manner.
Result: Fans cannot miss your brand message here. Unique opportunity where fans actually read your brand message.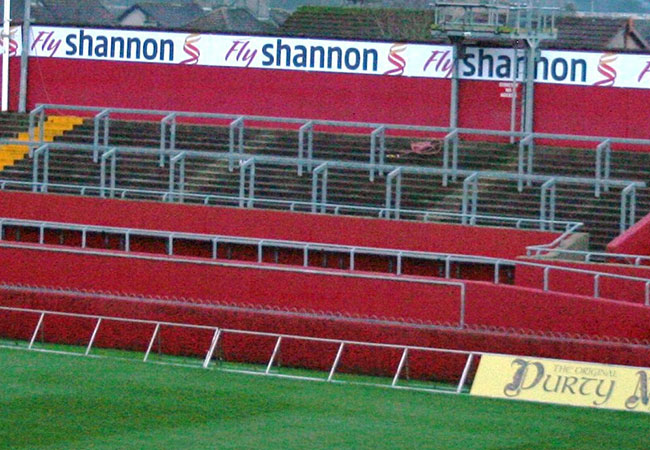 Quantity: 1 only but this is pitchside advertising GONE MAD – a whole 60 mtrs for your brand only.
Location: A full 60 mtrs at the rear of the South Terrace above the heads of the fans.
TV Coverage: Full TV visibility for your brand. South Terrace end used for TV On-Pitch interviews!
Result: Big brand noise!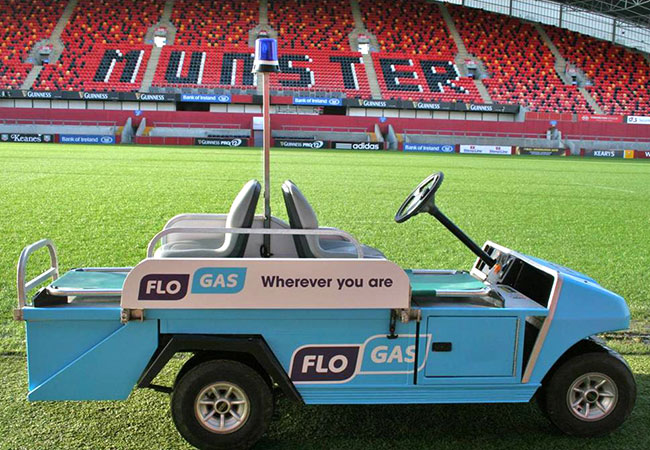 Quantity: Only one.
Location: The Medical Buggy provides a unique opportunity for the right brand – this is a first for Irish & European sport.
Coverage: In full view of attending fans – full circuit of pitch before Kick Off / @ HT / Post Match and the potential for unlimited TV coverage.
Result: BIG brand noise for the right brand!